Why Lying to a Process Server is a Bad Idea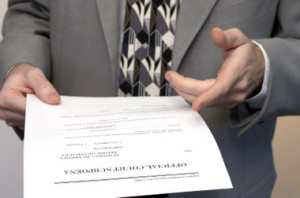 If a process server approaches you, introduces themselves, and then asks what your name is…what would you say? Would you be honest and tell them who you are, even if it meant being served with a lawsuit? Or would you lie and not reveal your identity, throwing the process server off the trail temporarily?
While it may be tempting to lie to the process server about who you are, we just can't urge you enough not to do so. Lying to a process server isn't just unethical…it can lead to some pretty serious consequences. In this post, we'll go over the exact reasons why you should never lie to a process server:
Lying Won't Stop Service
Think lying about who you are will stop the process server from being able to serve you? Think again. Even if a process server cannot find you in person, they can request that you be served by alternative means once they've attempted in-person service enough times. With alternative service, either someone you know will be served in your place or a notice for you will be placed in your local newspaper for three weeks. Either way, everyone is about to know your business, and you're still getting sued.
Lying Will Only Stall the Lawsuit, Not Stop it Entirely
While lying to a process server about who you are can temporarily stall a lawsuit from progressing, it will in no way stop the lawsuit entirely. Once the process server is approved to serve you by alternative means (see above) then the lawsuit will proceed on the scheduled date whether you are present or not. Make the mistake of not showing up to the court date and the judge will likely issue a default judgment for the plaintiff, basically giving them what they've asked for which could cost you thousands or more.
Lying Could Get You in Legal Trouble
Judges don't really appreciate their schedules being constantly shifted around because defendants can't be found. Imagine how upset they are when they find out that the reason the defendant can't be found is that they've lied about who they are! It's not unheard of for a judge to charge an evasive defendant with contempt of court for this type of behavior, which could lead to jail time, fees, and long-term reputation damage.
Lying Could Cost You
Even if a judge doesn't find you in contempt of court over lying to a process server, they very well may decide that you are responsible for all the extra process server, attorney, and court fees that resulted from the delays caused by your lying. These fees can add up quickly and, in some cases, even surpass the judgment amount.
Do You Need a Process Server to Serve a Lawsuit?
If you're looking for a reputable process server in the Port St. Lucie area, Accurate Serve is here. Our servers use every resource at their disposal to locate and serve defendants, even those that use deceit to avoid us. Just give us a call at (772) 236-7214 or send us a work request online to get started today.